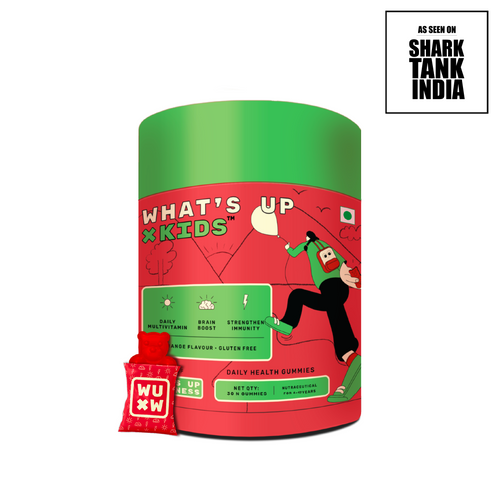 What's Up Kids Multivitamin Gummies
Perfect path to balanced nutrition for growing children at less than ₹30/Day
Sale price Price Rs. 899 Regular price Rs. 899 Unit price / per
Free Shipping Across India.
Delivery in 3-5 business days.
---
Gummies powered with 16 ingredients
Fulfills daily vitamins requirement
Supports the immune system
---
Benefits from 14 Ingredients
Vitamin A
Supports a healthy immune system and eye health
All B Vitamins
Supports cell health, energy levels, digestion and appetite.
Vitamin C
A powerful antioxidant with immune support capabilities
Vitamin D
Maintains strong and healthy bones
Vitamin E
Supports immunity and maintains eye health
Folate
Helps in health growth and energy
Biotin
Keeps hair, skin and nails healthy
Choline
Memory, mood and muscle development
Iodine
Regulates growth, metabolism and heart rate
Zinc
Supports brain and cognitive development
Sodium
Essential to maintain cell, muscle and nerve function
Inositol
Helps in proper formation of cell membranes
Vitamin K2
Maintains overall good health
DHA
Necessary for brain development
---
Free of all 8 major allergens!
---
Not your average kids multivitamin gummy!
What's Up Kids Gummies are formulated to offer the COMPLETE spectrum of all essential vitamins as well as Key Minerals to help the littles ones grow into shining stars!
18 Nutrients to help support Healthy Growth & Development.

Vitamin D to help support Strong Bones. Teeth & Muscles.

Vitamin A to help support Healthy Eyes

B Vitamins to help support a Healthy Brain & Nervous System.

Vitamin C to help support a Healthy Immune System

Vitamins A, C & E which provide a High Source of Added Antioxidants.*

DHA to improve brain function and cognitive development.
---
Why Choose Us
No Artificial Colours
No Preservatives
Gluten Free
Gelatin Free
100% Vegan
Multiple benefits apart from being a daily multivitamin
Artificial Colours
Contains Preservatives
Contains Gluten
May Contain Gelatin
May Not Be Vegan
Only acts as a multivitamin 
---
---
FAQs Skin, Hair & Nail Gummies
Our What's Up Kids Gummies are deliciously and naturally Orange flavoured so you'll have no trouble getting vitamins into your child's diet!
Our What's Up Kids Multivitamin gummies contain a complex of Vitamin A, B, C, D, E and K. Along with Zinc, Sodium, Inositol, Biotin, Choline, Folate and DHA specifically designed to meet the nutritional needs of children to help reduce fatigue, support their immune system and give them energy and vitality in all seasons while boosting their brain health and cognitive abilities.
Our What's Up Kids Multivitamin Gummies are specially designed and dosed to meet the nutritional needs of growing children by providing them with essential vitamins and micronutrients. To help them overcome dietary imbalances, ensure the proper functioning of their body, reduce their fatigue and strengthen their immune systems while boosting their brain health. Vegan, practical, delicious and fun, they will certainly be enjoyed by your children.
We have ensured the RDA in our gummy as such that kids from 4 years of age to 17 years of age can enjoy these delicious gummies and benefit from them.
The dosage is 1 gummy per day to be taken at any time of the day: in the morning before school or in the afternoon with a snack for example. It is recommended to take them at the same time each day to establish a routine. They can be taken in anticipation to strengthen natural defenses before periods of fatigue or cold: change of season, start of the school year, etc. For adults over 18, the doses of this formula are too low.
---
We want everyone to be the best version of themselves, every day! A brand that connects with you and your family's daily routine. We want to make a difference in your lives, in the world and for ourselves through our products.
Our product supports your busy and demanding lives, making the healthy option fun & easy to choose.
---
Your gummies are giving back!
What's Up Wellness is proud to associate with GiveIndia's Mission: "Every girl in school". For every pack of gummy you purchase, you are contributing to a girl child's education in India. We are proud to associate with the vision and ideology of Give India and pledge to make a difference with your support.
---
---