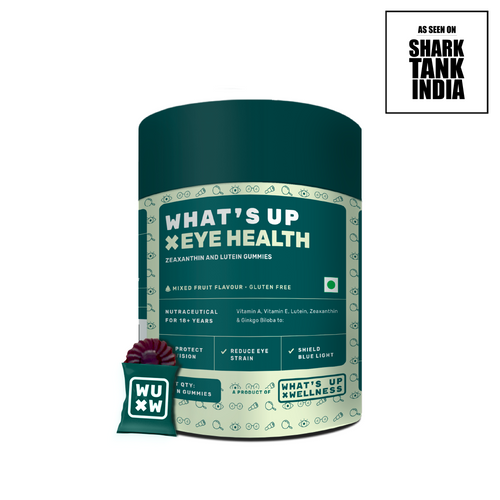 What's Up Eye Health Gummies
Look after your eyes the tasty way at less than ₹30/Day
Sale price Price Rs. 899 Regular price Rs. 899 Unit price / per
Free Shipping Across India.
Delivery in 3-5 business days.
---
Benefits
Maintain Eye Health
Reduce Eye Strain
Shields Against Harmful Blue Light
---
What are they made of?
Ingredients you can pronounce.
Lutein
Prevents eye diseases, including cataracts and diseases that lead to vision loss in older adults.
Vitamin A
A very essential nutrient known for maintaining good eye lubrication and healthy eyesight.
Ginkgo Biloba Extract
A herb known to help with preventing macular degeneration & diabetic retinopathy, as well as enhance your visual acuity.
Vitamin E
It is an antioxidant known to protect your cells from harmful molecules called free radicals.
Zeaxanthin
Functions as a light filter, protecting the eye tissues from sunlight damage.
---
Perfect For
Gamers

Digital Professionals

Students

Senior Citizen

Binge Watchers

You, Who is on the Phone
---
Take care of Your Eyes
Screen Time
If your Screen Time is too much, This is for you
Improves Eye Health
Reduces eye dryness
Optimum Eye Health
Enjoy Healthy and Strain free eye
---
Short Term benefits
Helps filter out blue light
Protects against sun damage
Long Term benefits
Supports healthy night vision, eye pressure & blood flow.
Provides critical nutrients for retina and macula
Helps reduce age related eye health deterioration
---
Why Choose Us
No Artificial Colours
No Preservatives
Gluten Free
Gelatin Free
100% Vegan
Artificial Colours
Contains Preservatives
Contains Gluten
May Contain Gelatin
May Not Be Vegan
---
---
See Stress Free!
What's Up Eye Health Gummies
+
What's Up Stress Relief Gummies
=
Keep your eyes & yourself Stress free
---
Sleep Well See Well
What's Up Eye Health Gummies
+
What's Up Sleep Gummies
=
Sleep on time & reduce strain on your eyes
---
More from wellness package
---
FAQ
Our eye gummies are crafted with care and love. Each flower-shaped gummy tastes of yummy mixed fruit.
Our Eye Health Gummies are formulated with a powerful punch of Lutein, Vitamin E, Ginkgo Biloba Extract, Zeaxanthin and Vitamin A to support your eye health.
With an increase in screen time, most of us experience dry eyes, early onset of vision impairment and other eye damages. These gummies are formulated to look after your eyes, and keep them healthy and lubricated.
It is for 18 years and above. Chew one gummy everyday to maintain your eye health.
---
We want everyone to be the best version of themselves, every day! A brand that connects with you and your family's daily routine. We want to make a difference in your lives, in the world and for ourselves through our products.
Our product supports your busy and demanding lives, making the healthy option fun & easy to choose.
---
Your gummies are giving back!
What's Up Wellness is proud to associate with GiveIndia's Mission: "Every girl in school". For every pack of gummy you purchase, you are contributing to a girl child's education in India. We are proud to associate with the vision and ideology of Give India and pledge to make a difference with your support.
---
---
---
My Eye sight improve. Reduce my eye strain. It's useful.. if u used u will get good results definitely
Eye strain reduced
I use laptop 12 hours a day it has helped me to reduce my eye strain so that my eye sight is not weak.