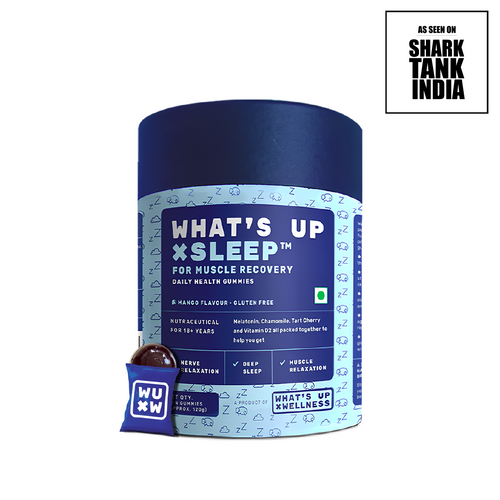 What's Up Sleep Gummies
Dreamy and restful sleep at less than ₹30/Night
Sale price Price Rs. 899 Regular price Rs. 899 Unit price / per
Free Shipping Across India.
Delivery in 3-5 business days.
---
Puts you to sleep in 30 minutes
Calms down nerves 
Induces deep & uninterrupted sleep 
Reduces joint & muscle pain 
Relaxes and restores muscles 
---
How Do People Use Gummies?
To relax and fall asleep on time
Make it easier to go back to sleep after waking
To feel less stiff and sore in the muscles after waking
For muscle pain reduction
---
What are they made of?
Ingredients you can pronounce.
Melatonin
Lengthens total sleep time while enhancing the quality of sleep
Chamomile
Reduces insomnia and induces a calming effect
L-Theanine
Induces relaxation before sleep and helps you sleep faster
Tart Cherry Extracts
Reduces muscle tension and pain
Vitamin D2
Relieves muscular and joint pain
---
A dreamy sleep Awaits you
Our Melatonin Sleep Gummies not only help you fall asleep faster, for a longer period of time but also reduces your muscular tension that happens as a result of a sedentary lifestyle or due to strenuous physical activity.
10:30 PM
Take your sleep gummy
11 PM
Drift off to a calming deep sleep
7 AM
Wake up feeling refreshed with relaxed muscles
---
Rest. Recover. Rebuild
Our Sleep Gummies made from plant extracts and other actives are specifically designed to help you relax, enjoy deep, uninterrupted sleep and breathe back life into your sore joints and muscles.
Calmness + Nerve Relaxation

Sound Sleep + Improved Sleep Quality

Healthy Sleep Cycle + No Grogginess

Reduced Joint/Muscle Pain + Faster Muscle Recovery
---
We Are Safe!
Optimal Level Of Melatonin
---
Why Choose Us
No Artificial Colours
No Preservatives
Gluten Free
Gelatin Free
100% Vegan
Focuses on Sleep & Muscle Recovery
Artificial Colours
Contains Preservatives
Contains Gluten
May Contain Gelatin
May Not Be Vegan
Focuses Only On Sleep
---
Are You Missing Your 7-9 Hours Of Sleep At The Cost Of
Being Sleepy & Inattentive The Entire Day At Work?
Hampering Your Daily Decision Making Skills & Immune System?
Becoming A Victim Of Anxiety, Stress & Depression?
Suffering From Joint & Muscle Pain and Low Bone Strength?
---
Why Good Sleep is important?
Extra sleep can improve your immune functions
Sleeping well benefits your memory
Good sleep ensures healthy weight balance
Improves focus and productivity
Enhances your social and communication abilities
---
---
Catch up your beauty sleep!
What's Up Beauty Gummy
+
What's Up Sleep Gummy
=
Repairs hair, skin, nails & your sleep cycle!
---
More from wellness package
---
Doctor Testimonials
Dr. Shivani
General Physician
What's Up Sleep gummies help in muscle recovery and nerve relaxation. Great gluten free source which is helpful in cases of insomnia majorly due to mental stress as well as works great in physical stress cases also.
Dr. Akshay Arora
Neurologist
These are amazing gummies providing you with appropriate amount of body relaxation required to work whole day optimally. It helps to overcome Insomnia due to overthinking, and nowadays mental workload too.
Dr. Ranajit Mandal
General Physician
Perfect sleep is a combination of relaxation, rejuvenation and repair. What's Up Sleep gummies fulfill all the three aspects. Its components Chamomile and L-Theanine help to calm and relax the nerves and muscles on the other hand Melatonin enhances the duration and quality of sleep. This product is highly recommended for sleep deprived patients.
---
FAQs Skin, Hair & Nail Gummies
The Sleep gummies are flavoured with natural mango extracts. A deliciously fruity taste.
Your 1 sleep gummy should be taken 30 to 45 minutes before bedtime. Be careful not to drive after taking your gummies as they work quickly.
The Sleep treatment is effective from the first dose, you fall asleep faster and the quality of your sleep is improved. After three weeks, your sleep cycles are regulated and you wake up less at night.
The main active ingredients in Sleep Gummies are: Melatonin to reduce the time it takes to fall asleep, L-theanine and Chamomile to promote relaxation and to improve the quality of natural sleep. It also contains Tart Cherry Extracts and Vitamin D2 to reduce muscle and joint pain and helps you wake up feeling refreshed.
Our gummies have been specially designed for adults. This means that the Sleep gummies can be enjoyed from the age of 18.
Studies of Melatonin show that after a 3-week course of treatment, the positive effects on the time it takes to fall asleep and the quality of sleep are extended over time. We, therefore, recommend that you take a break for a few weeks after your treatment. Then resume your Sleep gummies as soon as you feel the need again.
Unlike sleeping pills, our Sleep Gummies are not addictive. They do not cause physical or psychological dependence with withdrawal or rebound syndrome after you stop using them.
Some of the active ingredients in our gummies may be inadvisable in the case of a condition, specific medical treatment or a particular physiological state (such as pregnancy or breastfeeding). In this case, we recommend that you consult your doctor before taking any food supplements, including our gummies.
---
We want everyone to be the best version of themselves, every day! A brand that connects with you and your family's daily routine. We want to make a difference in your lives, in the world and for ourselves through our products.
Our product supports your busy and demanding lives, making the healthy option fun & easy to choose.
---
Your gummies are giving back!
What's Up Wellness is proud to associate with GiveIndia's Mission: "Every girl in school". For every pack of gummy you purchase, you are contributing to a girl child's education in India. We are proud to associate with the vision and ideology of Give India and pledge to make a difference with your support.
---
---
Not Working. Disappointed.
Hi, The sleep gummies never helped me sleep.
Amazing product
gIvEs yOu sOuNd sLeEp aNd hElpS yOu rElAx. hIgHlY rEcOmMeNdEd.
I was struggling with an anxiety issue, the sleep cycle was disturbed. I tried these gummies for couple of days and I could sleep like baby now.. I take 5 to 6 hours of sleep daily; but the sleep is deep now rather than disturbed. Thanks a lot for product
First of all..no side effects..easily chweble,.great flavour..feel fresh after awaking with deep sleep